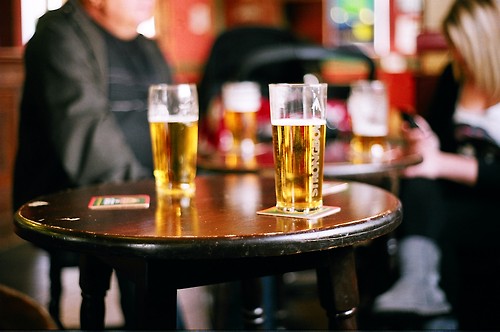 The University of Sheffield has come out with a new report that reveals the impact the Covid-19 pandemic, in its early stages, had on the consumption of alcohol in Scotland and England.
The University of Sheffield had received a commission from Public Health Scotland that led to this report, and this showed that during the Covid-19 pandemic's first stages, the consumption of alcohol showed an overall fall, both in Scotland and England.
During the initial lockdown (March-June 2020), there was an increase in alcohol consumption in homes, but this did not offset the drinking that normally takes place in pubs and restaurants. The report also says that people did not start their drinking earlier in the day.
Impact of Pandemic on Alcohol Consumption
The University of Sheffield's new report reveals the impact that the early stages of the Covid-19 pandemic had on Scotland's and England's consumption of alcohol.
Public Health Scotland commissioned this study, which showed that there was an overall fall in alcohol consumption when figures of those from March 2020 to June 2020 are compared with the figures of the same period in the year 2019.
This group, the Sheffield Alcohol Research Group, made an assessment of the changes in the drinking behaviour of people, looking at the average number of days that they drank, occasions when they drank, and their weekly consumption of number of alcohol units. They gathered this data from weekly drinking dairies.
Their findings showed that alcohol consumed at home, called off-trade, was in no way able to offset the reduced drinking in the on-trade drinking that takes place in restaurants and pubs.
According to Dr Abigail Stevely, a Research Associate of ScHARR, University of Sheffield's School of Health and Related Research, an impact has been made on the health and well-being of people because of the lockdown measures introduced after the Covid-19 epidemic.
She further said that on-trade venues like restaurants and pubs were closed during UK's first lockdown, leading to it affecting the opportunities for purchasing alcohol throughout the United Kingdom.
She added that research showed that there was a fall in the overall consumption of alcohol, both in Scotland and in England, and even with the increase in off-trade drinking, it was not able to compensate for the reduced on-trade drinking.
According to Dr Abigail Stevely, there was a concern that people would drink more during the day, but in fact it was found that people actually shifted to drinking late in the evening. This reflected the change that people made in their routines because of daytime socialising opportunities being absent, leading to people not being able to go to a pub after work.
Stevely said that though the overall drinking of people was reduced, those who drank heavily could have increased their consumption of alcohol during the lockdown. As a result it may be important during the pandemic, that drinking be monitored to prevent any future additional health problems.
This report, published on 16th February 2021, was funded by the Government of Scotland and the commission was given by Public Health Scotland; its prime focus was on changes in alcohol consumption in Scotland and how it compared with England.
Changes in Drinking Patterns
According to the Director of the University of Sheffield's Alcohol Research Group (SARG), Professor John Holmes, who co-authored the report, these findings helped to add to the understanding of how there was a change in the drinking patterns of different groups during Covid-19's earlier stages. Though alcohol consumption decreased overall, there was an increase in drinking alone in single adult households, and other sub-groups like households that had students and three or more adults. This may lead to increased need for alcohol addiction therapy.
Market research company Kantar collected the data from the weekly drinking diaries that were analysed for this study.